Madison McCulla works for one of CAFOD's partners in Uganda, supporting people living with HIV and AIDS. She reflects on the achievements that have been made since the 1980s.
It is possible that AIDS could be eradicated within the next 15 years. If 90 per cent of all people worldwide living with HIV get tested, if 90 per cent of those who test positive go on treatment, and if 90 per cent of the people on treatment have the HIV virus supressed in their body (the UNAIDS targets for 2020), then research predicts that AIDS will be eradicated by 2030.
With more effective methods available and reduced costs for HIV prevention, testing and treatment, a world without AIDS becomes more realistic. However, a lot of work still needs to be done for these 'ifs' to be achieved.
CAFOD's work on HIV and AIDS in Uganda
CAFOD's partner Kitovu Mobile has been working on HIV since the beginning of the epidemic, providing home-based care for those most vulnerable and in need of medical attention in Masaka Town, Uganda. During the onset of the epidemic, when no HIV treatment was available at all, caring for ill people in their home was the only way of providing support. This care included providing basic drugs, counseling and spiritual support.
Over the years, HIV testing and treatment has become more effective and more widely available, which has changed the needs for those living with HIV. People now need long-term services that are easily accessible, as well as counseling care and ongoing support in adhering to a drug regime. In response to this changing need, two years ago Kitovu Mobile decided to start an initiative that would strengthen local health care centers to provide rural communities with reliable and more accessible care and support.
Daily struggles for those living with HIV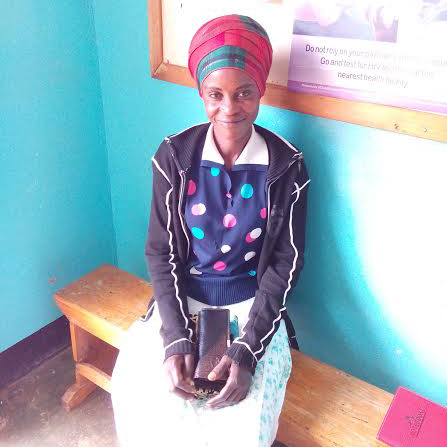 One woman who has seen the benefit of this work is Nalwadda Nuluyati. Nalwadda recalls the challenges that people living with HIV faced when she first received support from Kitovu Mobile in 2006. In those days, Kitovu Mobile's team had to visit four to six different clinics in the Masaka region during one day and this meant some people had to wait for a long time outside their local clinics before being seen – sometimes from 9am to 4pm.
As a mother of three, 38-year-old Nalwadda would find this frustrating, as she had children to care for back home. In addition, because Kitovu Mobile is known to work with people living with HIV, waiting outside the clinic in public would reveal to other members of the community that she was HIV-positive. This could cause her to experience stigma and discrimination in her community.
Due to a lack of space within the clinics, providing medical care privately was not always possible, meaning that care could not be provided with dignity and confidentiality. Without proper closed areas, patients in need of medical examinations to look at external sores or other concerns could be left ignored and untreated. This was not because Kitovu Mobile was ill-equipped to provide the care, but because there was little room for privacy to deliver it.
Another challenge for the Kitovu Mobile team in those days was the fact that the team often had to test new patients for HIV but the blood sample would need to be transported back to the lab in Masaka. Sometimes, the Kitovu team would not be able to make another visit to the clinic for a further two weeks. This caused a delay in treatment to patients who may have tested positive.
Advances in clinics, treatment, and care
Now local clinics have been supported to do the testing themselves, which means it can be done on site and staff can give results within minutes, and avoid treatment delays.
Kitovu's team also trained the local clinic staff in a variety of ways: from how to provide HIV care, to ensuring that services are patient-friendly. The health care facilities are now accredited and supported by the Ugandan Ministry of Health and can function independently. By making these connections with the rural health centres, more people can access better health care services in a convenient location.
Challenges ahead
However, there are still some challenges. For example, the rural clinics are often unable to access the vehicles that are needed to transport medications and patients.
Nalwadda is pleased with the change in services but she would like to see more government support for these health clinics so more progress can be made and more care provided to the most vulnerable in the community.
Source: https://blog.cafod.org.uk/2017/01/05/2017-the-beginning-of-the-end-of-aids/